Find out what is included in furnished apartments
Furnished Apartments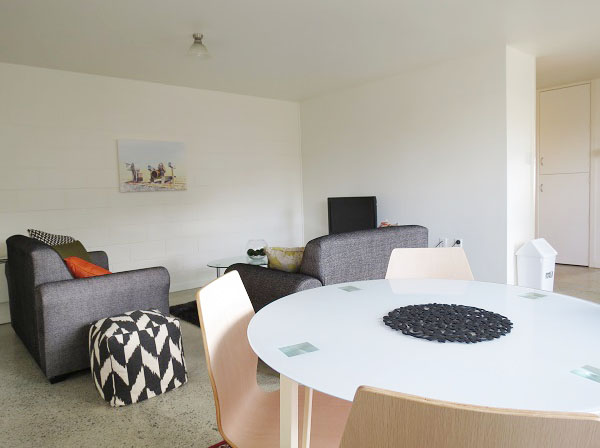 The furnished option includes a full range of high quality furniture and appliances so you don't have to worry about appliance breakdowns and replacements:
Dishwasher
Microwave
Full-size Fridge/Freezer
Oven
Washing machine
Lounge Suite (2 x two seaters)
Rug in lounge
Coffee table
Dining table and chairs
Heat pump in Living area
32" flat screen TV with freeview, plus TV cabinet
Queen bed, bedside tables and lamps
2 x King single beds, which can be converted to a King size bed, bedside table and lamp
Artwork by well known New Zealand landscape artist Kelvin McMillan
Outdoors table and chairs (only for apartments with balconies)
The furniture package includes artwork by well known New Zealand landscape artist Kelvin McMillan. Outdoor furniture includes a cafe setting with two chairs for apartments with balconies and some apartments have an additional outdoor wooden table with bench seating. The main bedroom has a queen sized bed and there are two king singles in the second bedroom, which can be converted to a King size bed. Good quality whiteware includes – a dishwasher, microwave, full-size fridge-freezer and washing machine.  In the living area there is a 32″ flatscreen TV with remote and freeview. The lounge suite consists of two x 2 seater sofas with a glass and chrome coffee table.  A dining table and chairs completes the furniture package.
There are huge advantages to renting a furnished apartment.
Our furnished apartments give you the convenience of moving in without having to buy expensive appliances, whiteware and furniture. Moving is easy too, there's no need to shift heavy furniture and appliances. Plus you get peace of mind when appliances fail and have to be replaced, because you don't need to find the money for these unexpected expenses.
A furnished apartment solves all of these problems, it's so convenient and easy.