What are the best places to eat in Whangarei?
This is the first in a series of Whangarei accommodation's picks for the best places to eat in Whangarei.
Amici Italian Restaurant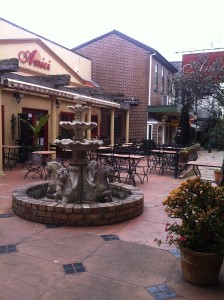 Amici Italian Restaurant in the Quality Arcade is located a short walk from Whangarei Accommodation's furnished rental apartments in Central Avenue – so it's a convenient dining spot for anyone living at the Avenues Apartments. We can recommend Amici as a restaurant that we often pick for family dining and also for their amazing dessert selection.
The menu includes a range of Italian staples. We usually kick-off with trio bruschetta – a tasty selection of ciabatta bread topped with basil pesto, sundried tomato pesto and cannelloni bean dip. There's a great range of pasta – we've tried spaghetti bolognese, chicken alfredo and fettuccine alla marinara (prawns, mussels, squid and smoked salmon in a garlic white wine sauce). Sirloin fillet from the dinner menu has been road tested and got the big tick.  Specials are updated regularly and have included pork bellies on cannelloni beans, and a range of great risottos including chicken, mushroom and spinach, and shrimp and chilli. Starters and meals are reasonably priced in the $10 to $30 range.
If you are a dessert fan, its worth a trip to Amici for the desserts alone. They offer a great range of gelatos and ice creams. Banana splits are a favourite and the sticky date pudding is also highly recommended. Most desserts are priced at around $10.
Angie is a charming hostess and the wait staff offer a friendly service. Talented musicians play guitar most nights which adds to the warm and relaxing atmosphere.
If you're at the Avenues Apartments in Whangarei and thinking about dining out Italian style, we can recommend Amici Italian Restaurant.
Or if you're at the Avenues Apartments in Whangarei and thinking about dining out Israeli style, then try the Fat Camel Israeli cafe.
To see more information about Whangarei Accommodation's properties for rent click here. To take a virtual tour of the apartments,  view our interactive floor plan of  the Avenues or our interactive floor plan of a Regent apartment. If you need more information you can contact us at Whangarei Accommodation.
Be the first to know when we have an apartment available for rent by subscribing to our notification  list (see the right side bar).